Upgrade your data with
cross analysis.
Merge your logs and crawls data and get in a few clicks only, essential indicators for your SEO.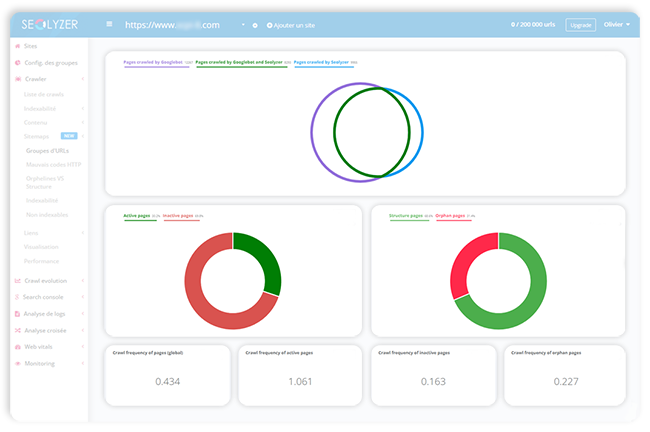 Cross your data in 1 click!
Connect your logs and start a crawl to access the power of SEO data fusion.
Thanks to Seolyzer, for each URL or important KPI, we propose to study the inconsistencies (or coherences) of your website. Detect your orphan pages, active and inactive pages, ignored pages and more.
Included in the cross analysis
Is Google mapping your site correctly?
Detect orphan pages, ignored pages and inactive pages on your site and see how often they are crawled with the combined analysis of your crawls and log files.
Learn how the structure, content, speed and depth of your pages impact Googlebot activity and your SEO traffic. Highlight correlations between indicators and exploit your SEO potential.
Identify orphan, inactive and ignored pages on your website
Google allocates a crawl budget to your site: this time is precious.It is partly consumed on pages whose existence you cannot suspect via a crawler alone, because they are not linked to the site: these are orphan pages.On the other hand, Google ignores on average 50% of the pages of a site, which it considers too low quality: these are the ignored pages.Finally, pages that do not generate SEO visits are a bad indicator for Google to satisfy its users: they are inactive pages.
Improve crawl frequency and boost your strategic pages
Cross analysis is the fastest way to identify orphaned and inactive pages that are degrading your SEO performance. They unnecessarily consume the crawl time allocated to your website, to the detriment of your most strategic pages.Once highlighted, you can direct the bots to your most important pages for your business objectives and increase their crawl frequency.
A powerful solution adapted to all website sizes
With one click, you can launch up to 50 million URLs at a speed of 1000 URLs per second and get all the information you need to apply your SEO actions.
Available in all Seolyzer offers.
"The Seolyzer API allows us to easily retrieve our entire internal linking, i.e. millions of links, in order to optimize it thanks to our Data Scientists."
"Tracking errors to be corrected, monitoring the pool of sites, and monitoring everything through scheduled crawls, crossed with log analysis: SEOlyzer has really helped facilitate my SEO worldwide task at Club Med. It's a great tool with a responsive and available team, perfectly suited to all my needs."
"Say goodbye to the usual challenges to access and monitor how Google crawls your site! Seolyzer easily integrates and allows you to visualize and analyze your sites logs activity for SEO purposes, in real time."
Filter and export your SEO data without limits
With Seolyzer, it is possible to configure advanced filters to analyze all reports: logs, crawl, cross analysis… You can export all your data in standard CSV or Excel formats with Seolyzer.
Dynamically segment your web pages
You can segment your site's pages without limits with Seolyzer thanks to our real-time, retroactive and hierarchical categorization system (sub-categories).This segmentation of your web pages will allow you to measure the impact of your SEO efforts on a set of specific contents.
Start your first crawl now!
Create your account, send the URL of your site and launch your first analysis!