Decrypt Googlebot thanks to
log analysis
Connect your logs, optimize Googlebot's journey on your site and generate additional SEO traffic.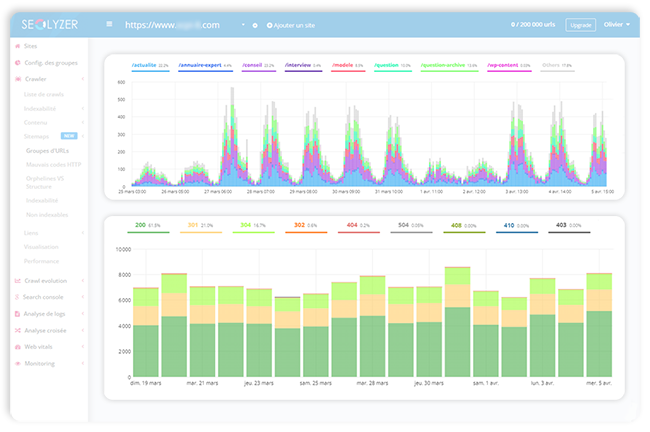 Real-time log analysis thanks to Seolyzer!
Our log analysis tool collects all the events from your web server using a collector. Users and robots will have no more secrets for you thanks to the study of each useful request. Most crawled pages, orphans, response time, http code, referer… All your log data in a simple and efficient interface!
Included in our log analyzer
No more blind SEO decisions, discover in real time the behavior of Googlebot and other search engine robots on your website!Log analysis allows you to understand how Google sees your site and identify strategic pages that it ignores. The log files present the real and exhaustive behavior of the robots on your website. Optimize the time allocated (crawl budget) by the bots to your site and direct them to crawl your business pages as a priority, your entire SEO will benefit!
Analyze your logs in real time
When a problem appears in the Google Search Console, it is already too late! Thanks to Seolyzer log analysis, react immediately to a problem that impacts your SEO. Quickly detect and correct technical errors on your website before they affect your SEO positioning. Log analysis with Seolyzer allows you to aggregate all your data and extract clear and usable SEO indicators.
Connect your logs in a few clicks
It will only take you a few minutes to view and analyze your first logs in real time in our various dashboards thanks to the simple and quick installation of our connectors for PHP, Apache, Nginx, Varnish… Beyond our connectors, you can also feed your dashboards from your storage services such as Cloudflare, Amazon S3, Akamai, OVH… or even send them to us by secure FTP.
A scalable and powerful infrastructure
Seolyzer analyse chaque jour plusieurs centaines de millions de lignes issues de fichiers de logs. Seolyzer analyzes hundreds of millions of lines from log files every day.
Available in all Seolyzer offers.

Use crawl history to compare different versions of your site, then identify errors or regressions following changes or migrations.

Launch one or more crawls, punctually or on a recurring basis, and collect the information that highlights your problems.

Cross analysis
Begin the fusion of your crawls, logs and Google Search Console data to identify inconsistencies in the analyses.

Send your requests to our API and get all the Seolyzer data directly in your internal dashboards and your own tools.
"The Seolyzer API allows us to easily retrieve our entire internal linking, i.e. millions of links, in order to optimize it thanks to our Data Scientists."
"Tracking errors to be corrected, monitoring the number of sites, and monitoring everything thanks to scheduled crawls, crossed with log analysis: Seolyzer has really helped to facilitate my worldwide SEO task at Club Med. It's a great tool with a reactive and available team, perfectly adapted to all my needs."
"Say goodbye to the usual challenges to access and monitor how Google crawls your site! Seolyzer easily integrates and allows you to visualize and analyze your sites logs activity for SEO purposes, in real time."
Security and GDPR compliance at the heart of our infrastructure
Seolyzer is GDPR compliant. By keeping all of your data in France, we guarantee their security and confidentiality. You remain fully in control of your data! Our advanced processing process anonymizes the data of your SEO visits on the fly before any storage: no personal data is recorded.
Dynamically segment your pages
The segmentation of pages is essential for a detailed and relevant log analysis.With Seolyzer, you can segment the pages of your website without limits thanks to its real-time, retroactive and hierarchical categorization system (sub-categories). Compare the vision that the robots have of your website with your business objectives. Measure the impact of SEO efforts implemented on a specific category of pages!
Create your account, connect your logs and optimize your crawl budget!