Audit your site with our SEO crawler.
Start a crawl with Seolyzer and determine the actions to be implemented to achieve your visibility goals!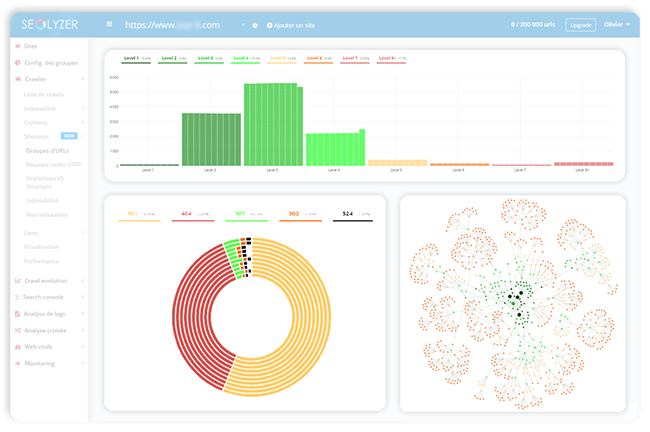 Seolyzer: a powerful and customizable crawler.
Our crawler benefits from the latest innovations in terms of site exploration and information retrieval. Thanks to a scalable infrastructure, we have the ability to crawl several million pages and return them to you in a simple and intuitive interface.
A fast crawler suitable for all website sizes
In one click, start a crawl up to 50 million URLs at a speed of 1000 URLs per second and quickly obtain all the data necessary to implement your SEO actions.
Secure your SEO traffic by monitoring your crawls
Via a fast and easy-to-use interface, you can follow the evolution of your SEO KPIs by comparing several crawls without calculation time. With Seolyzer, you will have a perfect knowledge of the main indicators of your website related to indexability, content quality, duplication, performance and popularity.
Plan and configure your crawl the way you want
With Seolyzer, you can easily configure your crawls on the essential points: crawl speed and depth, sub-domain, etc.; but also on advanced parameters: sites in development, virtual robots.txt test, DNS modification… and many others.
Crawl your JavaScript site with ease
In the case of a website developed in Javascript (Angular, React, etc.), Googlebot and crawlers do not correctly display the content and links of your HTML pages. The pre-rendering solution designed by Seolyzer ensures that you crawl your entire JS site, as Google recommends.
Available in all Seolyzer offers.

Use crawl history to compare different versions of your site, then identify errors or regressions following changes or migrations.

Connect your logs in real time and visualize Googlebot's journey to optimize your crawl budget.

Begin the fusion of your crawls, logs and Google Search Console data to identify inconsistencies in the analyses.

Send your requests to our API and get all the Seolyzer data directly in your internal dashboards and your own tools.
"The Seolyzer API allows us to easily retrieve our entire internal linking, i.e. millions of links, in order to optimize it thanks to our Data Scientists."
"Tracking errors to be corrected, monitoring the number of sites, and monitoring everything thanks to scheduled crawls, crossed with log analysis: Seolyzer has really helped to facilitate my worldwide SEO task at Club Med. It's a great tool with a reactive and available team, perfectly adapted to all my needs."
"Say goodbye to the usual challenges to access and monitor how Google crawls your site! Seolyzer easily integrates and allows you to visualize and analyze your sites logs activity for SEO purposes, in real time."
Unlimited users and shares
Your collaborators and clients can access your analyzes and data according to the privileges you grant them: administrator, contributor or reader.
Export your SEO data with no limit
The Seolyzer crawler gives you the possibility to export all of your data without limits, in standard CSV or Excel formats.
Visualize structural optimizations in space
Our in-space visualization tool helps you identify structure and popularity issues at a glance: infinite pagination, unmastered facets, popularity confiscation (mega-menu or footer) and much more .
Categorize the types of pages on your website
Beyond a hundred pages, it is complex to analyze your web pages one by one: a relevant analysis requires the categorization of your pages. Seolyzer assures you to segment the pages of your website without limits thanks to its real-time, retroactive and hierarchical categorization system (sub-categories).
Start your first crawl now!
Create your account, send the URL of your site and launch your first analysis!