Integrate your SEO data into your applications.
Connect your tools to our REST API to retrieve all of your SEO data, simply.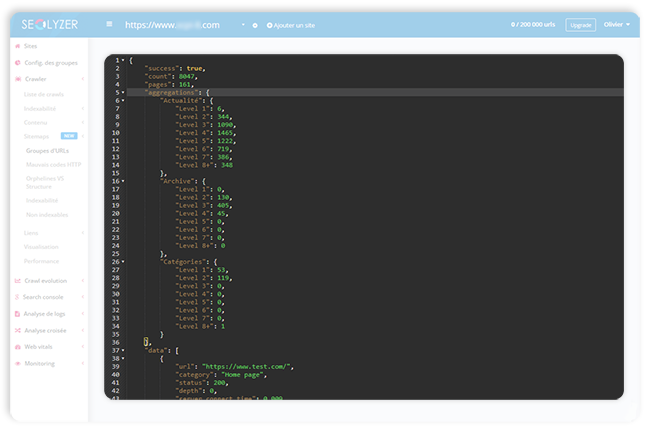 Enrich your dashboards with data from crawls, logs, Google Search Console and data calculated by Seolyzer in order to develop your marketing strategy and your business!
Using the Seolyzer API means deploying raw and aggregated SEO data in your favorite applications, simply and without data limits.
An exhaustive API with lots of possibilities
In a few lines of code, connect your application to our API, in order to unlock the full power of Seolyzer. Collect raw and aggregated data and calculate your own.
An "API First" that meets your expectations
Our API answers to all your data needs by offering raw, aggregated data in JSON format.
An unlimited number of API calls and lines
The Seolyzer API has no limitations on the number of calls or the number of rows fetched.
A particular attention to the needs of our customers, associated with new innovations and in phase with the evolution of the SEO Job.
"The Seolyzer API allows us to easily retrieve our entire internal link, i.e. billions of links, in order to optimize it thanks to our Data Scientists."
"Tracking errors to be corrected, monitoring the pool of sites, and monitoring everything through scheduled crawls, crossed with log analysis: SEOlyzer has really helped facilitate my SEO worldwide task at Club Med. It's a great tool with a responsive and available team, perfectly suited to all my needs."
"Say goodbye to the usual challenges to access and monitor how Google crawls your site! Seolyzer easily integrates and allows you to visualize and analyze your sites logs activity for SEO purposes, in real time."
Available in all Seolyzer offers.

Use crawl history to compare different versions of your site, then identify errors or regressions following changes or migrations.

Connect your logs in real time and visualize Googlebot's journey to optimize your crawl budget.

Begin the fusion of your crawls, logs and Google Search Console data to identify inconsistencies in the analyses.

Launch one or more crawls, punctually or on a recurring basis, and collect the information that highlights your problems.
Connect your app to Seolyzer!
Contact us to activate our API on your account. We'll give you your API access to get started.